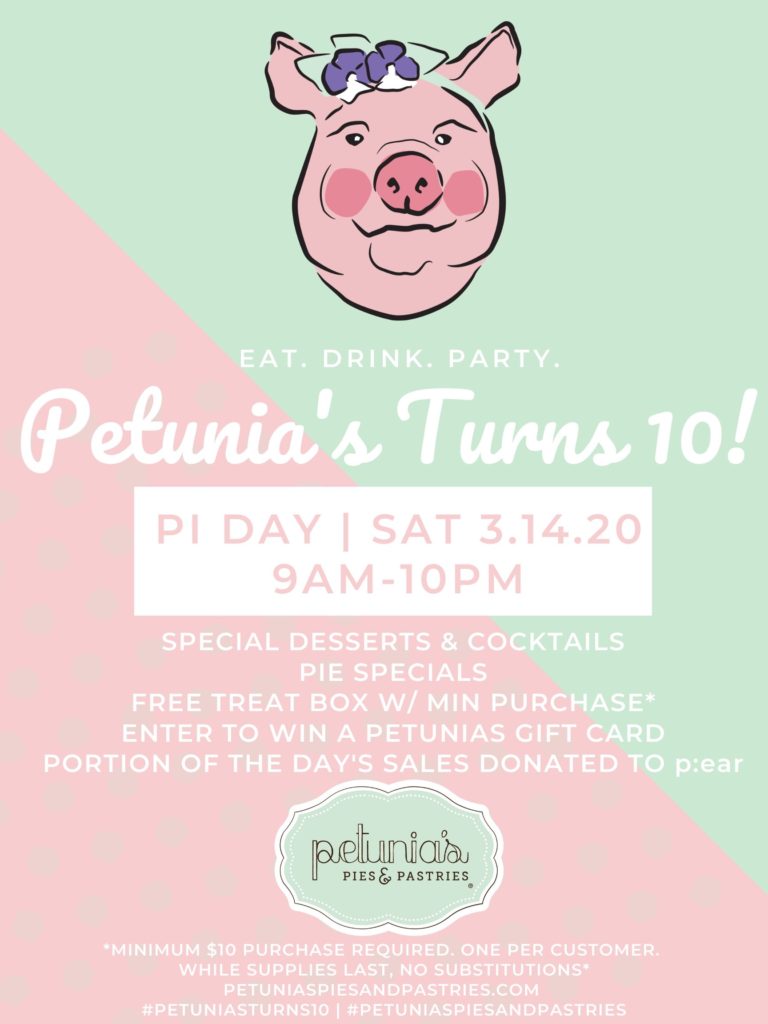 Can you believe it?! We are turning TEN this year! It seems like just yesterday it was just Lisa at her last Thursday booth. Since those days we've opened our first brick and mortar restaurant and a wholesale production facility, grown to 20+ employees, have nearing 90 retailers, been at countless weddings and events, and served more customers than we can begin to count! It's all thanks to Lisa's vision and determination, the hard work of our amazing employees, and our fabulous customers like YOU! We wanted to celebrate in a big way. So, LET'S PARTY!
You are invited to big 10 year anniversary party, Petunia's Turns 10! It also coincides with Pi day, one of our busiest days of the year! And, lets be real, a great excuse to make and eat a lot of pie. Please join us for:
Special desserts & cocktails
A TON of pie specials for Pi Day, for sale by the slice or whole if ordered ahead.
Each customer will receive a free mini treat gift box with purchase
Enter our social media contest by posting photos at the event to win a Petunia's gift card!
A portion of the day's sales will be donated to p:ear, a local non profit who builds positive relationships with homeless and transitional youth through education, art and recreation to affirm personal worth and create more meaningful and healthier lives.
Come party and help support a good cause with lots of food, drinks & fun to celebrate us being in business for 10 years! Tell your friends!