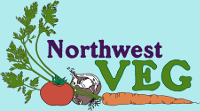 Business Spotlight: Petunia's Pies and Pastries
October 31, 2013
By Trista Cornelius, Contributing Writer
Did you know that NW VEG members receive 10% off at Petunias!? Click here to check out all of the great perks of membership.
If you're having a rough day and need a sweet treat, or if you're looking for a classy place for a date, and you're gluten-free and vegan, I've found your slice of heaven right here in downtown Portland: Petunia's Pies and Pastries. Petunia's is a peaceful and friendly place where everything– and I mean everything–on the menu is safe for you to eat. All menu items, from the cocktails and cookies to the harvest bowls and chili, are vegan and gluten-free.
Cupcakes with pink frosting, glossy chocolate brownies, and cinnamon rolls glazed with snow-white icing beckon from the display case. These desserts are like nothing you've tried before, but don't worry if you can't make it to the bakery. You can find Petunia's pastries at retails stores and coffee shops from Vancouver to Hillsboro.
You can also order online and have dessert shipped to your door for Thanksgiving, birthdays, baby showers, weddings, anniversaries, or as they say on their website, gorging out alone on weekends! Petunia's will even customize a dessert if you have particular dietary needs in addition to gluten and dairy.
As great as these treats are, the story behind Petunia's makes them even better. Lisa Clark, owner and pastry revolutionary, suffered a mysterious and debilitating illness all through college. After seeing "a million doctors" and finding no cure, Lisa took the advice of her sister and experimented with cutting dairy and gluten from her diet. It eventually worked, but it was not easy. Lisa found few, if any, gluten-free baked goods she liked. So, she got busy figuring out how to convert butter and flour desserts like the ones she plated at Papa Haydn's into something just as delicious but safe for her to eat. "All I would do after work is think about what can I do so I can eat this." She started writing her own recipes after studying a lot of books and online resources.
In a few short years, Lisa's business vaulted from a popular table at Alberta's Last Thursday to the Portland Farmers Market to her own bakery. The secret to her success is not only her determination to make gluten-free and vegan desserts just as decadent as any other, but also her genuine desire to make people happy.
Speaking of happy, when you visit the bakery, you can enjoy a soothing espresso or tea with your treat, beer or wine, or order from the "Drink and Dessert Pairings" and sip a signature cocktail made to complement one of the delicacies in the display case.
Just in case you're overwhelmed by the luscious selection, I highly recommend the Salted Caramel Cookie Bar, the Thin Mint Brownie, or both!
See Original post here