Lots of Exciting things are happening over here at our bakery! First off, we are so excited to announce that beginning Sunday June 2nd, you can find us at the Milwaukie Farmer's Market! We thought long and hard about what market we wanted to join next, along with the PSU farmer's market in Portland each Saturday. We finally decided on Milwaukie! Named by The Oregonian as "the best farmer's market of 2012", Milwaukie is also Lisa's hometown! That said, we are extra super excited to take part in this amazing market. Entering its 15th season, the market takes place every Sunday, May 12th through October 27th from 9:30 am to 2:00 pm @ SE Main St.& Harrison St. Milwaukie, OR 97222. Come see what it's all about! We'll be ready and waiting for you!
We are also proud to welcome two new members to the Petunia's family! You can now find a tasty variety of our treats at Theory, the beautiful waterfront restaurant inside of OMSI! What a great match for us! You can also now find us at New Seasons Market, Orenco Station! We adore New Seasons as one of our favorite retailers, and are so excited to have this location come aboard! We have been trying to edge out to that part of town for a long time, all of our local fans have to tell them how excited you are to have us there!
Brand new Spring Savory Menu!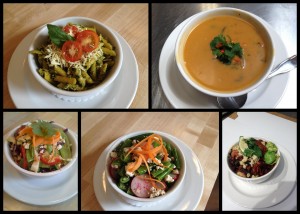 We just changed our savory menu to bring in some fresh tastes for
Spring! Joining our menu are:
Spring Pea Salad
Pesto Pasta Salad
Asian Buddha Bowl
Mexican Harvest Bowl
Spicy Thai Soup
Come on down soon and give them a try!
Don't forget that we have Happy Hour every Tuesday – Thursday from 4-7pm! $2 off slices of cake, $1 off pieces of pie, tart & cheesecake & signature cocktail, beer & wine specials!
15% off for Vida Vegan Con attendees!
It's pretty great to be in a place like Portland where we have such unique events as the Vida Vegan Con! To show our support and welcome attendees, we are offering 15% off to conference attendees with your badge or other proof of registration now through Sunday the 25th. We hope to meet you and show you the best vegan (and gluten free) treats that Portland has to offer!