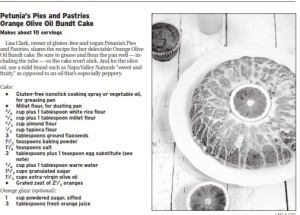 "The Portland gluten-free bakery scene expands this month with the brick-and-mortar opening of Lisa Clark's farmers market favorite,Petunia's Pies and Pastries. The downtown bakery and cafe will also serve as a dessert destination spot, offering gluten-free beer from local favorites Harvester Brewing and Omission, plus a rotating selection of red, white, sparkling and dessert wines, cider and five signature cocktails.
Recipe included with this story: Petunia's Pies and Pastries Orange Olive Oil Bundt Cake.
Petunia's Pies and Pastries is a dedicated gluten-free and vegan facility, which means everything in the bakery is free from animal products, including the desserts, savories (a daily selection of sandwiches, salads, flatbreads and soups) and even the coffee bar. Enjoy local Stumptown coffee or Foxfire teas with a staggering selection of dairy-free alternatives, including soy, hemp, rice, almond and coconut milk.
The ambitious pastry and dessert menu will feature all of the following items daily, specific flavors varying according to seasonality: cookies, sandwich cookies, whoopie pies, bars, cupcakes, pies, tarts, cheesecake, cinnamon rolls, sticky buns, breakfast pastries and layer cakes. Doughnuts will be available on Saturdays and Sundays. Both private tables and a communal table are available for enjoying your treats; sidewalk seating coming soon as weather permits.
The official Petunia's Pies and Pastries grand opening celebration was March 1, but until you can get there to check out the bakery for yourself, try Lisa Clark's Orange Olive Oil Bundt Cake at home."
Read the posting here:
http://www.oregonlive.com/foodday/index.ssf/2013/03/a_new_and_tasty_downtown_desti.html#incart_river