A "silly" idea (others laughed, I knew it was genius) born 10 years ago is finally coming to fruition this Summer. Petunia's Treat Truck will be coming to a neighborhood near you!
This year has been tough. Kids are stuck at home and experiencing a time that is very new and unstable. They are missing out on great moments to become their memories of summertime as a kid. Adults are experiencing a lot of stress and unknowns, and just trying to hold it all together day by day. With all of the difficulties we are facing today, we at Petunia's Pies & Pastries want to help spread a little joy, love and happiness to the kids AND adults out there in our neighborhoods. We are also very happy to announce that we will be offering a free mini treat to kids who cannot afford to make a purchase from the treat truck. Because every kid deserves to feel special.
Since 2010 our mission (simply put) has been to help others, make people happy, spread joy and to make EVERYONE feel special, included and cared for. We want to do everything we can to continue to do so, no matter the circumstances around us. During this time of adversity, we've stayed true to our values and have chosen to make lemonade out of our lemons. We put our nose to the grindstones and have worked up something special for you!
Below is our tentative Summer schedule. We may add in days and neighborhoods as we go or make adjustments/changes. We have a small staff these days, so you will be served by my husband/co-owner Jacob, along with tried and true Petunia's Pies & Pastries originals. Be sure to check back and follow us on Instagram to stay up to date with details of our schedule and routes as they become available. We can't wait to see you!
-Lisa Clark, Owner
Tentative Summer Schedule (Hours 11am-2pm)
Every Thursday we will post the specific stop points & times through that weekend's neighborhoods on social media and our Treat Truck webpage. Watch our Instagram page stories & posts to stay updated on last minute changes or specific stop info. Listen for the 90s tunes to find us!
A note about neighborhoods: We choose them based on our product sales in those areas, and where we think we can be the most successful with the Treat Truck. While we would love to come to each and every neighborhood in our great community and want to reach as many people as possible, we also have to be able to pay to keep the Truck going. This is costly for us to do. Please remember that we are a small family business, during a pandemic. We have very limited staffing and budget. We cannot be everywhere at once as much as we want to! That being said, again this is a tentative schedule. If you don't see your neighborhood listed, request it! If it gets enough love to support us going there and already scheduled ones do not, we may come to yours instead!
Lastly, we want to thank you in advance for your patience and kindness with us as we launch the Treat Truck. This is brand new to us, and we are flying by the seat of our pants with this new idea. We may be late, have a last minute change or run out. We learn as we go, like always. Please wear your mask, and your smiling eyes when you come to see us. We can't WAIT!
*7/25 UPDATE-we will be adding more neighborhood locations to Fridays! Stay tuned to see what/where we add in soon! Be sure to send in your votes on our Instagram page on our 7/16 Treat Truck post regarding route & Neighborhood info!
Friday 7/17: Sellwood/Moreland, Woodstock
Saturday 7/18: Happy Valley
Friday 7/24: Petunia's SE Production Facility Parking Lot
Saturday 7/25: Cedar Hills
Friday 7/31: NE Portland
Saturday 8/1: Progress Ridge/Tigard
Friday 8/7: OFF
Saturday 8/8: Multnomah Village, Hillsdale, Maplewood
Friday 8/14: Milwaukie
Saturday 8/15: Jantzen Beach/North Portland (for all you Vancouver people!)
Friday 8/21: OFF
Saturday 8/22: Troutdale/Gresham
Friday 8/28: Lake Oswego
Saturday 8/29: Orenco Station, Hillsboro, Tanasbourne
Friday 9/4: TBD
Saturday 9/5: TBD
Menu – ALL items are Gluten Free & Vegan, and All Packaging is Biodegradable!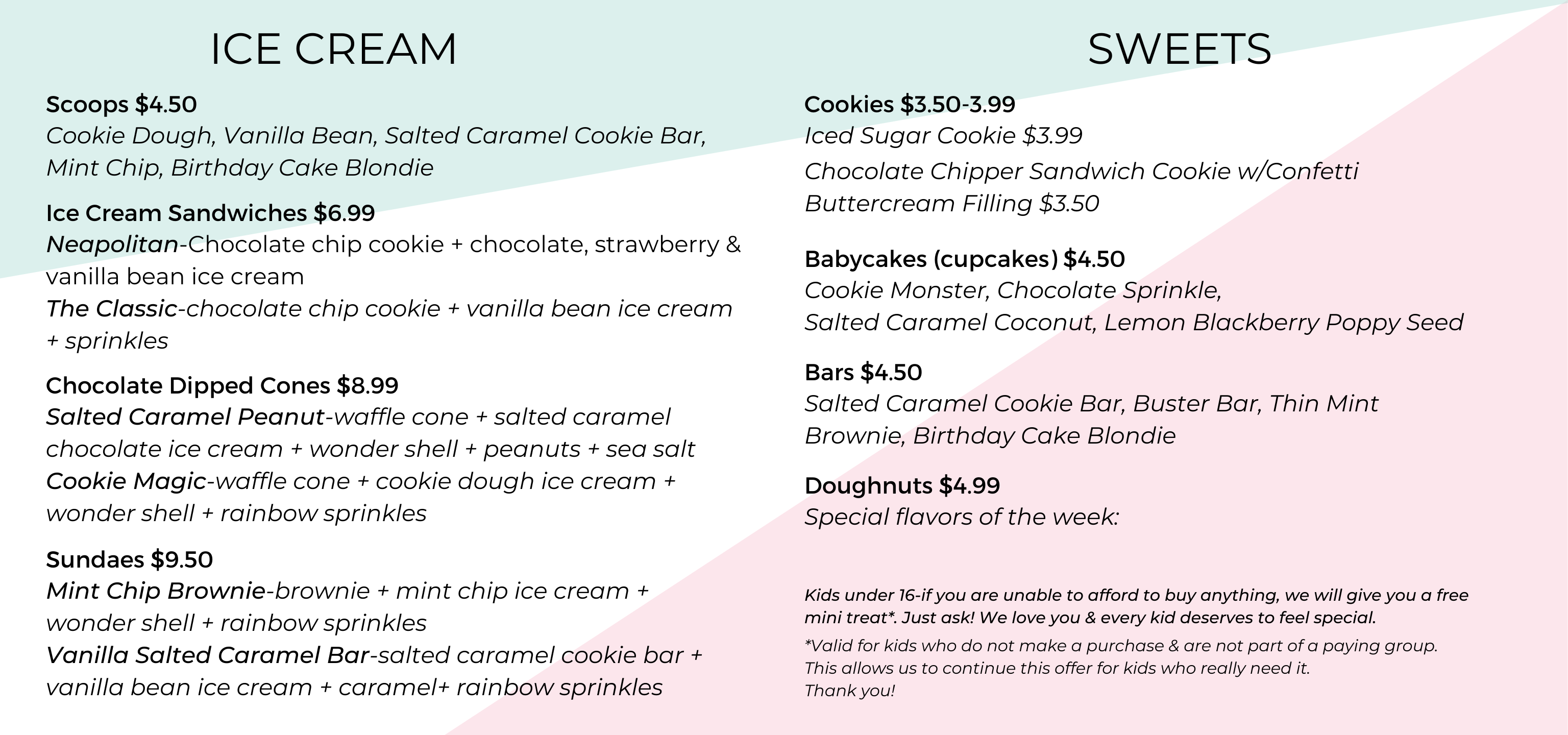 The Treat Truck
We are excited to debut the new and improved original Petunia's delivery van! Watch the transformation process below!
I bought this 1998 Ford E250 van 11 years ago as I began my mission to startup Petunia's Pies & Pastries on my own. I was 24 years old, had no money, and had no idea what I was getting into. Buying this van marked the beginning of an era that would become something so big and a part of so many people's lives.
In the first year of the business and in this very same van, ALL on my own, I setup my vending table at Last Thursday one Alberta, delivered to all wholesale accounts, drove to, setup and worked 5 Portland farmers markets, picked up supplies and ingredients, drove to store demos and my first kitchen space to bake for 18+ hours straight each day. I even slept in this van! I And best of all, I met my husband and now co-owner Jacob as I stepped out of this van to walk into his coffee shop carrying his first delivery full of Petunia's treats to sell, all made and packaged by me.
This van has been crashed by a plethora of employees, totaled, restored, played in by our children, used as a backup when a car goes south, and now finally given a little makeover she well deserves. Now, she is given new life to hit the streets again and bring all of you and your families some treats, joy, laugher and fun this summer.
She can't wait to visit you all. Enjoy!
-Lisa Clark, founder & owner