News & Media
<!-RSS-->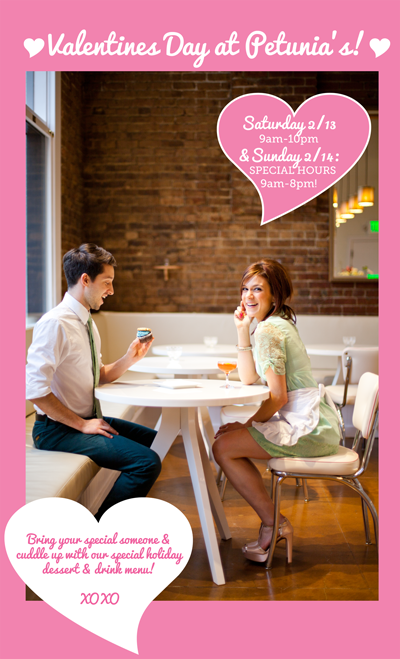 Love is in the air! This Valentine's day we hope you'll cuddle up with Petunia's! On Saturday 2/13, & Sunday 2/14, we'll be featuring special Valentine's Day desserts & drinks, and setting the mood to make this the heart day of your dreams! For the big day Sunday 2/14, we will be open special hours, 9am-8pm! No date? No problem! We will be selling our special drinks and desserts all day at the bakery. They're also great to share with your mom, a friend, or just to eat yourself!
In true Petunia's style, we will be whipping up a special menu to celebrate Valentine's Day in all it's pink & glittering glory. Please join us for:
Desserts
Chocolate Dipped Shortbread Heart Cookies
Chocolate Raspberry Whoopie Pie Hearts
Conversation Heart Sugar Cookies
Raspberry French MacaronsPink Velvet Babycakes
Chocolate Strawberry Seduction BabycakesRaw Strawberry Pie
Pear Raspberry PieTriple Chocolate Ecstasy Cheesecake
Raspberry Chocolate CheesecakeStrawberries & Champagne Cake
Chocolate Truffle Cake
Chocolate Raspberry Kiss Cake
Cocktails 
Bees Knees
French 75
Raspberry Love Bug
Non Alcoholic 
St. Valentine's Sparkler
All items are subject to availability, they're pretty popular!  We hope you'll join us! Of course, you can take some to go to enjoy at any celebration 🙂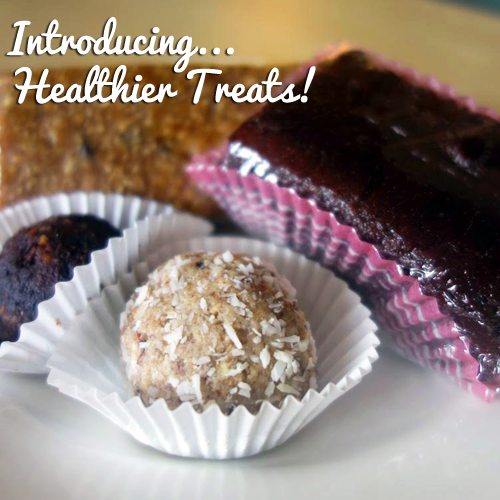 We are so excited to introduce our new category, healthier treats! We are happy to answer your requests for some less sweet items with more protein, but with Petunia's amazing flavor! These are perfect for when you need sustenance on the go, want to stick with new year's resolutions, are avoiding sugar or just love Petunia's! Pick up one of these yummy new options today!
Peanut Butter Boost Bar: Our homemade protein bar! Made with peanut butter, chocolate chips & raw organic vegan vanilla protein powder this powerful bar is cane sugar free & loaded with protein!
Power Bites: Cashew Coconut and Cherry Chocolate: Made with raw cashew butter, coconut & cacao nib, or cashews, dried cherries & dates, these bites of energy are cane sugar free & have only healthy ingredients!
Power Brownie:  Finally, a brownie that is healthy & packed with protein! These less sweet bars are nut free, cane sugar free & made with raw organic vegan vanilla protein powder to fill you with energy!
The Holidays are here! We want to make sure you have plenty of time to relax and enjoy it with your loved ones. Don't worry about getting that perfect cookie recipe and finding the time in your crazy holiday schedule to make few dozen. Let Petunia's do the work for you! This season is the most glorious, but also the most hectic! We would be honored to help make it more joyful.
We are pleased to share our Holiday Menu with you . Check out the yummy options below, (or click here) and email your order to Lisa, or call the bakery at 503.841.5961. Orders must be placed for December 20th, for pickup at the bakery on December 22nd or 23rd. Place your order today!
Petunia's Has the Perfect Gift!
Need a gift for that special gluten free or vegan person in your life? Or for anyone that just loves great desserts? Have no fear, Petunia's is here! With baking mixes for everything from cakes to waffles, house made granola, aprons, hats, shirts, mugs and more, we have something for everyone! We have gift cards too! Stop by and we would be happy to help you put together the perfect gift! Need to ship to someone? No problem! Email erica@petuniaspiesandpastries.com for help!
New Baking Mixes!
Speaking of the perfect gift, we are so excited to add the Snickerdoodle & Sugar Cookie Baking Mixes to our selection! Just in time for the Holidays, these festive cookies are sure to add cheer to your celebrations! The mixes make great gifts as well! Pick yours up at the bakery today!
Amidst all the holiday craziness, we just wanted to take a minute to wish you a very Happy Holiday! Thank you for making this our best year yet! (Our new Petunia's baby Maximus helped with that as well :))
Please see below for our special Holiday Hours:
Wed 12/23: 9am-5pm
Thurs 12/24 Christmas Eve: CLOSED
Fri 12/25 Christmas: CLOSED
Sat 12/26: 10am – 9pm
Thurs 12/31 New Years Eve: 9am-7pm
Fri 1/1 New Years Day: 10am-9pm
From our family to yours, we wish you the happiest of Holidays!
XOXO,
Lisa & the Petunia's Pies & Pastries Family
We love Thanksgiving. Food, family, friends, reflecting on what you have to be thankful for….what could be better? We have such fond memories of this holiday. While we love Thanksgiving, we know how much work it can be. Getting the house ready for guests, traveling, preparing all the food , it's a lot of work!  Throw on trying to figure out a dessert on top of it, forget it! Do you or your guests have a need for a vegan and/or gluten free option? That can be tough to prepare alone! Do you just want a really yummy dessert? Have no fear, Petunia's is here !
Please see our Thanksgiving Special Order Form HERE  and below to choose from the delicious options below, and email Lisa your order, or call the bakery at 503.841.5961. Don't forget to make your order by Sunday 11/22 for pickup by 7pm 11/24, or 6pm 11/25!
We hope by now you have had the chance to taste the ridiculously good ice cream collaborations we have done with Salt & Straw. If you haven't, trust us, try them now!  Just in time for the holidays, we are SO excited to introduce you to:
Petunia's Caramel Pecan Apple Pie
This starts with Salt & Straw's delicious caramel coconut ice cream, studded with chunks of our pecan apple pie and dotted with our pecan brown sugar streusel. Of course it's vegan and gluten free! This will only be around for a limited time and you WON'T want to miss it! Available at all 3 Salt & Straw Scoop Shops, and at our bakery! Come try it today!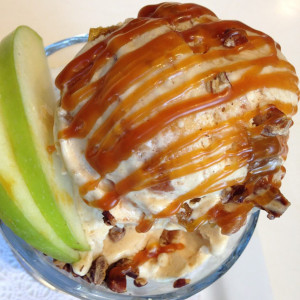 Check us out in the new November issue!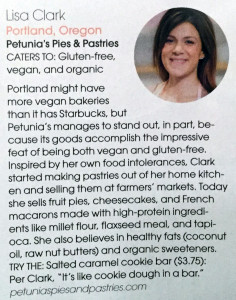 Ice cream treats (all gluten-free and vegan) abound at Petunia's Pies and Pastries, where you can choose from root beer floats, pie à la mode, and a masterpiece brûléed banana split. Try the special collaborative ice cream from Salt & Straw, "Coconut with Petunia's Caramel Bars." Or make-your-own ice cream sandwich using Petunia's cookies (Salted Double Chocolate Chunk, Cowgirl, Snickerdoodle, White Chocolate Macadamia, or the Mama Cookie) paired with chocolate, vanilla, or the Salt & Straw ice cream. Waffle cones are in the works.
Create a sundae from Eb & Bean organic frozen yogurt with toppings such as gluten-free Petunia's Cowgirl Cookie Dough or Cacao Nibs with Jacobsen Salt. There's always a non-dairy frozen yogurt made from almond milk or coconut milk, plus non-dairy Magic Shell and Coconut Milk Caramel as toppings.
See original post here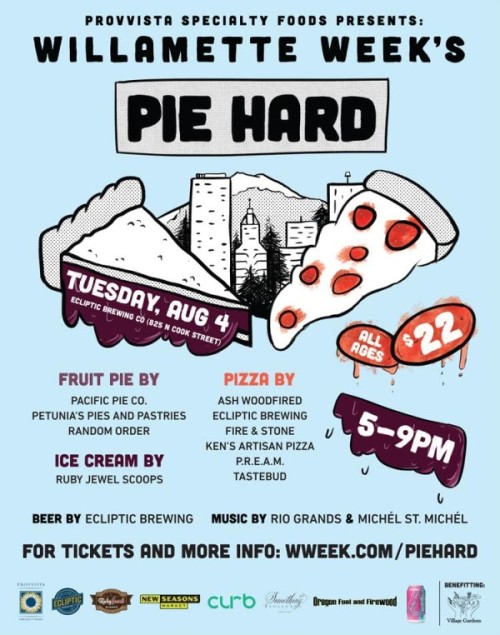 I'm so excited to compete in Willamette Week's Pie Hard event on 8/4! Buy a ticket and come see Portland pizza makers compete, and me face off with Random Order & Pacific Pie Co.! Gonna be a blast! XOXO, Lisa.
Join Willamette Week for PIE HARD, presented by Provvista Specialty Foods. Sample from some of Portland's hottest artisan pizza and fruit pie chefs and vote for your favorite in each category. Enjoy live music by Rio Grands, beer by Ecliptic Brewing, and ice cream by Ruby Jewel. Pizza ingredients by Provvista Specialty Foods and produce by New Seasons Market. Wristband proceeds benefit Village Gardens.
Chefs Include:
Pizza: Ted Sharpnick, Ash Woodfired / Michael Molitor, Ecliptic Brewing / Joey Alvarez, Fire & Stone /  Ken Forkish, Ken's Artisan Pizza / Nick Ford, P.R.E.A.M. / Mark Doxtader, Tastebud  /  & others to be announced…
Fruit Pie: Lisa Clark, Petunia's Pies and Pastries / Tracy Olson & Sara Nolan, Random Order / Sarah Curtis-Fawley, Pacific Pie Company
Ice Cream by Ruby Jewel Scoops
Music by Rio Grands and DJ Michél St. Michél
Guest Judging Panel includes Mike Golub, Cheif Operating Officer, Portland Timbers / Kurt Huffman, Chefstable Inc. / David Barbur, Pickelopolis / Mike Thelin, Feast / & others to be announced…
Tuesday, August 4
Ecliptic Brewing
825 N Cook Street
5:00 – 9:00 p.m.
$22
All Ages
Buy tickets here 

A new vegan and gluten-free Petunia's flavor at Salt & Straw: Local vegans and gluten-free eaters around town have already built shrines and composed hymns in honor of the first sweet collaboration between Petunia's and Salt & Straw—the incredible Coconut with Petunia's Salted Caramel Cookie Bar—and a follow-up flavor is now ready for scooping. Stop by any Salt & Straw location or Petunia's West End bakery to try the summer-only Petunia's Strawberry Rhubarb Pie: super-sweet vanilla bean ice cream with generous hunks of real strawberry rhubarb pie and brown sugar cornmeal streusel folded in.
See original post here