News & Media
<!-RSS-->

Check us out in the new November issue!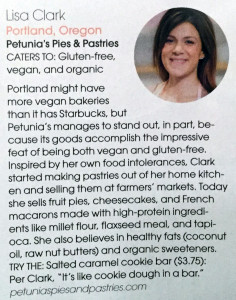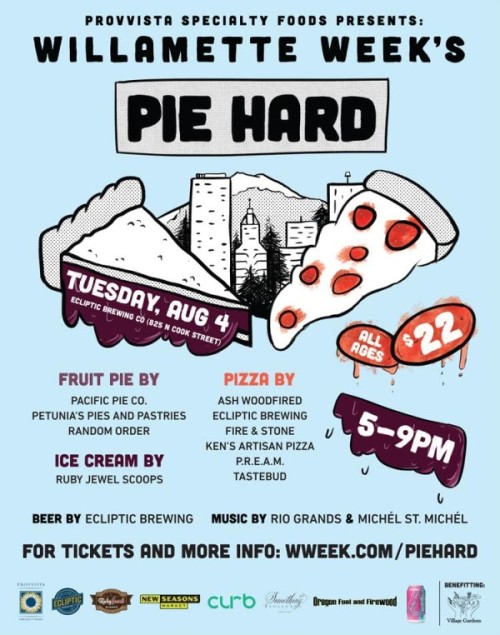 I'm so excited to compete in Willamette Week's Pie Hard event on 8/4! Buy a ticket and come see Portland pizza makers compete, and me face off with Random Order & Pacific Pie Co.! Gonna be a blast! XOXO, Lisa.
Join Willamette Week for PIE HARD, presented by Provvista Specialty Foods. Sample from some of Portland's hottest artisan pizza and fruit pie chefs and vote for your favorite in each category. Enjoy live music by Rio Grands, beer by Ecliptic Brewing, and ice cream by Ruby Jewel. Pizza ingredients by Provvista Specialty Foods and produce by New Seasons Market. Wristband proceeds benefit Village Gardens.
Chefs Include:
Pizza: Ted Sharpnick, Ash Woodfired / Michael Molitor, Ecliptic Brewing / Joey Alvarez, Fire & Stone /  Ken Forkish, Ken's Artisan Pizza / Nick Ford, P.R.E.A.M. / Mark Doxtader, Tastebud  /  & others to be announced…
Fruit Pie: Lisa Clark, Petunia's Pies and Pastries / Tracy Olson & Sara Nolan, Random Order / Sarah Curtis-Fawley, Pacific Pie Company
Ice Cream by Ruby Jewel Scoops
Music by Rio Grands and DJ Michél St. Michél
Guest Judging Panel includes Mike Golub, Cheif Operating Officer, Portland Timbers / Kurt Huffman, Chefstable Inc. / David Barbur, Pickelopolis / Mike Thelin, Feast / & others to be announced…
Tuesday, August 4
Ecliptic Brewing
825 N Cook Street
5:00 – 9:00 p.m.
$22
All Ages
Buy tickets here 

A new vegan and gluten-free Petunia's flavor at Salt & Straw: Local vegans and gluten-free eaters around town have already built shrines and composed hymns in honor of the first sweet collaboration between Petunia's and Salt & Straw—the incredible Coconut with Petunia's Salted Caramel Cookie Bar—and a follow-up flavor is now ready for scooping. Stop by any Salt & Straw location or Petunia's West End bakery to try the summer-only Petunia's Strawberry Rhubarb Pie: super-sweet vanilla bean ice cream with generous hunks of real strawberry rhubarb pie and brown sugar cornmeal streusel folded in.
See original post here
We hope by now you have had the chance to taste the ridiculously good and amazingly successful Coconut with Petunia's Salted Caramel Cookie Bar ice cream from Salt & Straw. If you haven't, trust us, do it now. This flavor has been so popular, that we got together again with the fine folks at Salt & Straw to bring you a fresh new Summertime flavor. Just in time for this heat wave and the 4th of July Holiday, we are SO excited to introduce you to:
Petunia's Strawberry Rhubarb Pie
Vanilla bean ice cream with hunks of our strawberry rhubarb pie and brown sugar cornmeal streusel folded in. Of course as it has Petunia's name, it is both vegan and gluten free! Fruit pie and ice cream a la mode-the perfect summertime indulgence made into one revolutionary ice cream flavor! Available beginning this Friday, 7/3 at Salt & Straw locations, and right here at Petunia's! This will only be around for the summer, and you WON'T want to miss it!
Hi there Petunia's friends!Do you have your Mother's Day plans yet?! It's just 2 weeks away!  What would mom love more than some Petunia's sweets!? We would like to invite you to join us at the bakery Sunday May 10th, to celebrate moms everywhere of all types. :)Of course, we will be having treats exclusively for Mother's day that we are pretty excited about. For the first time ever we will be making Boccone Dolce! For those of you who aren't familiar, Boccone Dolce is an Italian dessert made of baked meringue layered with whipped cream, chocolate & fresh berries. We did it Petunia's style, gluten free & vegan, and are pretty proud of ourselves and how yummy it turned out! Here is the full list of the day's specials and favorites that mom is sure to love! All available until they sell out:
Boccone Dolce
Strawberry Rhubarb Pie w/ Vanilla Ice cream
Strawberry Rhubarb Upside Down Cake
French Macarons: Raspberry, Pistachio & Passionfruit 
Coconut Dulce De Leche Cake
Coconut Passionberry  Cake
Lovely Lemon Cake
Banana Almond Cake
Banana Carrot Zucchini Cake
Triple Chocolate Cheesecake
Lemon Raspberry Cheesecake
Freshly Made Doughnuts
Belgian Waffles w/Fruit Compote
Mimosas w/ Freshly Squeezed Orange Juice
Bring your mom, your kids, your friend or yourself and enjoy the day! We would love to see you!Looking for a gift for Mom, or need treats to bring to your celebration? Look no further! Order one of our Mother's Day Gift Boxes of Goodies!  Two varieties to choose from, either Sweets for Mom, or Mom's Breakfast Assortment. $20 each, includes 1 of each item listed, while supplies last.
Sweets for Mom
Salted Caramel Cookie bar
Thin Mint Brownie
Buster Bar
French Macaron
Coconut Passionberry Babycake
Strawberry Shortcake Babycake
Mom's Breakfast Assortment
Orange Olive Oil Bundt Cake
Pecan Sticky Bun
Cinnamon Roll
Lemon Blueberry Poppy Seed Muffin
Raspberry Scone
Coconut Lemon Blueberry Pound Cake
Come in in, call us at 503.841.5961, or email lisa@petuniaspiesandpastries.com to order yours today!Happy Mother's Day from all of us at Petunia's!Xoxo,
Lisa & the Petunia's Family
           Lisa & Her mom Kathy        
Lisa & her son Max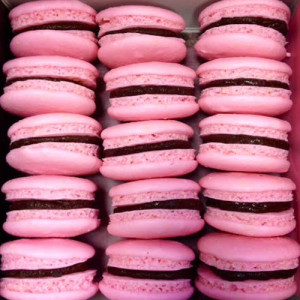 March 20 just got even more delicious on our calendar. The list of reasons for joy is long: the first day of spring, National Ravioli Day, Bock Beer Day and now the first annual Macaron Day PDX. Led by patisserie and café Nuvrei, 15 of Portland, Oregon's best pastry shops will be celebrating the Jour du Macaron, inspired by similar events launched in Paris by Pierre Hermé and in New York City by François Payard. Nuvrei will make a pineapple vanilla macaron (in addition to many other flavors), Pix will make a foie gras macaron and Petunia's Pies & Pastries will have an array of vegan macarons available just for that day. Most importantly, each shop will offer one free macaron to each customer who donates to Meals on Wheels People, a Portland nonprofit that delivers 5,000 meals daily to needy seniors. Follow the action on social media at #MacaronDayPDX, or visit macarondaypdx.com for more details.
See original post here
Rocked at the Nines give you the ideas and connections to make your big day as sparkling and luxe as the ring on your finger. Come see the latest hot trends and meet some of Portland's premier wedding-services providers, ready to give you the inside edge on what it takes to pull off the ultimate party. Come see what Petunia's can do for your big day to make your dessert perfect!
Use the code below you receive 50% off your tickets!
Holiday Cookie Decorating Party!
Want something fun to do with your kiddos while they're on school break? Have family in town visiting? Bring them to Petunia's on
Wednesday, December 17th from 3-5pm
for our Holiday Cookie Decorating Party! For just $3 per person, you can decorate your own Petunia's signature sugar cookie in a fun Holiday shape  with icing and sprinkles. It's not just for kids, cookies are fun for everyone!  Please note that the Cookies contain almond. Need nut free? No problem!  Just notify Lisa via email at
lisa@petuniaspiesandpastries.com
 by 12/14 and we can make arrangements. Pretty please
email
Lisa as well if you're planning on coming so we can be sure to have enough cookies on hand!
#petuniasholiday Contest!
Petunia's wants see how we help make your holiday season sweet! Enter our Instagram contest for a chance to win some free Petunia's goodies in 2015! Now through 1/1/15:
1) Snap a photo of however Petunia's Pies and Pastries makes your holiday sweet! Maybe it's our Eggnog Cheesecake at your holiday table, our Peppermint Hot Cocoa Babycakes at your work  party, or eating a piece of our Pumpkin Maple Gingerbread Cake on your couch with your cat while you admire your Festivus pole. We want to see how you enjoy your treats! Just be sure to include the Petunia's logo in your photo!
2) Upload the photo to Instagram tagging @petuniaspiesandpastries in your post, with the hashtag #petuniasholiday
That's it! Our favorite post wins a sweet prize from Petunia's in the New Year.
Happy Holidays From Petunia's!
Amidst all the holiday craziness, we just wanted to take a minute to wish you a very Happy Holiday! Please watch the video below and enjoy! We hope you'll have as much fun watching it as we did making it.
Please see below for our special Holiday Hours:
–
Tues 12/23: 9am-4pm
–
Wed 12/24
Christmas Eve: CLOSED
–
Thurs 12/25
Christmas: CLOSED
–
Fri 12/26: 12pm-8pm
–
Wed 12/31
New Years Eve:
9am-4:30pm
–
Thurs 1/1
New Years Day:
11am-6pm
From our family to yours, we wish you the happiest of Holidays!
XOXO,
Lisa & the Petunia's Pies & Pastries Family
That's right, Pumpkin has returned to Petunia's Pies & Pastries! Fall is one of our favorite times of year at Petunia's, as well as the most popular menu! We know Summer is still lingering in Portland through September, but let's be honest, pumpkin tastes amazing year round.  As the days get shorter and the chill comes back to the air, we'll be ready for you with a Pumpkin Spice Muffin & a Latte! We've said goodbye for now to our Spring specials and are welcomed our fall favorites back this week! Here's the new fall lineup:
Apple Cinnamon Coffee Cake
Maple Walnut Scone
Pumpkin Chocolate Chip Whoopie Pie
Pumpkin Ginger Cheesecake
Pumpkin Maple Babycake
Pumpkin Spice Muffin
White Chocolate Macadamia Nut Cookie
Also, after many requests, we are happy to announce that some of our signature treats are now nut-free!!! They include:
Pumpkin Spice Muffin
Pumpkin Maple Babycake
Raspberry Coconut Baked Alaska Babycakes
Coconut Passionberry Babycakes
Coconut Lemon Blueberry Pound Cake
Coconut Dulce De Leche Cake
Coconut Berry Passionfruit Cake
Chocolate Mocha Mousse
White Chocolate Pot De Creme
Sweets & Beats to Defeat ALS Fundraiser!
Lisa & Jacob's ALS Ice Bucket Challenge! from Petunia's Pies & Pastries on Vimeo.
We are so thrilled about all of the awareness that ALS has received lately! Our owner Lisa & Manger Erica's mother passed away from ALS in 1997. You may have seen her photo hanging in the bakery, or her ceramic pig Petunia adorning the wall, which is where our name comes from! When we were challenged to do the ALS Ice Bucket Challenge, we were happy to accept! Please see above for our video!  We still wanted to do something more to help fight the cause.
We are so excited to announce that on Saturday 9/13, we will be hosting our very first fundraiser,  Sweets & Beats to Defeat ALS! Please join us for a quick treat, a meal, dessert and/or drinks! Our favorite DJ, DJ Onlychild will be back spinning his sweetest Saturday beats! All profits made that day will be donated to The ALS Association OR & SW Washington Chapter through our walk team, Kathy's Cuties!  Every year we do the Portland Walk to Defeat ALS, which is on 9/28 this year. For more information on the Walk to Defeat ALS, the ALS Association, to make a donation or to read our personal stories with the disease, please visit our team page at http://web.alsa.org/goto/Kathys_Cuties. We will also be taking donations at the bakery up until the walk. Eating dessert for a good cause, what could be better!? We hope to see you Saturday the 13th! 
Feast Portland is almost here!!! We couldn't be more excited to be involved in this incredible food and drink festival celebrating Oregon's bounty and the talented people making the most of it! We'll be participating in the Oregon Bounty Grand Tastings on Friday 9/19 & Saturday 9/20 from 12-5pm. Oregon is known for outstanding artisans, Come taste them all including special treats from Petunia's at the Oregon Bounty Grand Tasting when we transform Portland's "living room" into the city's dining room for two days of Feast-ing! At the festival's premiere daytime event, you can eat and drink your way through artisans, wineries and breweries. Please come support us in our effort to help end childhood hunger through Feast's charitable partners Share Our Strength and Partners for a HungerFree Oregon. For tickets and more info, please visit www.feastportland.com. See you there!
Thank you for all of your support! We hope to see you on the 13th!