News & Media
<!-RSS-->

Check us out in the new November issue!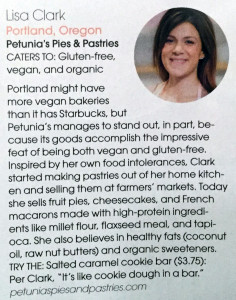 Ice cream treats (all gluten-free and vegan) abound at Petunia's Pies and Pastries, where you can choose from root beer floats, pie à la mode, and a masterpiece brûléed banana split. Try the special collaborative ice cream from Salt & Straw, "Coconut with Petunia's Caramel Bars." Or make-your-own ice cream sandwich using Petunia's cookies (Salted Double Chocolate Chunk, Cowgirl, Snickerdoodle, White Chocolate Macadamia, or the Mama Cookie) paired with chocolate, vanilla, or the Salt & Straw ice cream. Waffle cones are in the works.
Create a sundae from Eb & Bean organic frozen yogurt with toppings such as gluten-free Petunia's Cowgirl Cookie Dough or Cacao Nibs with Jacobsen Salt. There's always a non-dairy frozen yogurt made from almond milk or coconut milk, plus non-dairy Magic Shell and Coconut Milk Caramel as toppings.
See original post here

A new vegan and gluten-free Petunia's flavor at Salt & Straw: Local vegans and gluten-free eaters around town have already built shrines and composed hymns in honor of the first sweet collaboration between Petunia's and Salt & Straw—the incredible Coconut with Petunia's Salted Caramel Cookie Bar—and a follow-up flavor is now ready for scooping. Stop by any Salt & Straw location or Petunia's West End bakery to try the summer-only Petunia's Strawberry Rhubarb Pie: super-sweet vanilla bean ice cream with generous hunks of real strawberry rhubarb pie and brown sugar cornmeal streusel folded in.
See original post here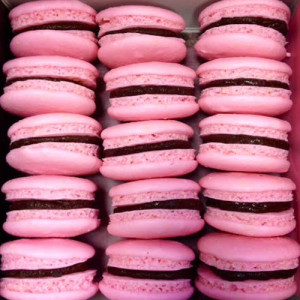 March 20 just got even more delicious on our calendar. The list of reasons for joy is long: the first day of spring, National Ravioli Day, Bock Beer Day and now the first annual Macaron Day PDX. Led by patisserie and café Nuvrei, 15 of Portland, Oregon's best pastry shops will be celebrating the Jour du Macaron, inspired by similar events launched in Paris by Pierre Hermé and in New York City by François Payard. Nuvrei will make a pineapple vanilla macaron (in addition to many other flavors), Pix will make a foie gras macaron and Petunia's Pies & Pastries will have an array of vegan macarons available just for that day. Most importantly, each shop will offer one free macaron to each customer who donates to Meals on Wheels People, a Portland nonprofit that delivers 5,000 meals daily to needy seniors. Follow the action on social media at #MacaronDayPDX, or visit macarondaypdx.com for more details.
See original post here

Petunia's pulls out all the stops around the holidays, creating a vegan and gluten-free lineup that includes Peppermint Hot Cocoa Babycakes topped with toasted marshmallows, Eggnog Cheesecake with a gingersnap crust, Pumpkin Maple Spice Cake slathered in maple butercream and topped with candied ginger, and Oreo-like Chocolate Mint Sandwich Cookies with a peppermint buttercream filling. You can even indulge your craving for nostalgia with old-fashioned holiday sugar cookies.
See the Original Post here

This year, we delve into the holiday rituals of our local pastry stars—the ones who expertly baked your pumpkin pies and apple turnovers. We quizzed them on their favorite Thanksgiving desserts (most often pumpkin pie baked with their grandmother), their nostalgia-driven cooking styles, and their own standby dishes for the holidays.
Lisa Clark, Petunia's Pies & Pastries
Favorite Thanksgiving dessert: I have never been a person who can choose a favorite anything. Pumpkin Pie, Pecan Pie, Pumpkin Mousse Torte, Apple Pie! I always saved room (even if I didn't have room, it went down).
How it influenced your baking style: I tend to try to combine things into one dessert, what I call "making the perfect bite." I love bringing the traditional flavors to customers, with a little punch, a little excitement and pizzazz.
New Thanksgiving traditions: I believe strongly in carrying on tradition through all generations. It provides something constant—a foundation. This year, my dad is finally letting us cook the dinner, rather than do it himself. He is almost 68, so I think he needs a break.
See the full post here
Shops and Sweets in Portland, Ore.
By BRIAN LIBBYMARCH 4, 2014
Petunia's Pies & Pastries opened a storefront in the West End last March.CreditLeah Nash for The New York Times
Nestled just west of Portland's downtown and south of its popular Pearl District, the West End began transforming from vacant lots and decaying buildings into the city's hottest new neighborhood with the arrival of the hip Ace Hotel on Southwest Stark Street in 2007. Coupled with an explosion of food carts around the corner on 10th Avenue (not to mention Powell's Books' mammoth flagship store holding court less than two blocks away), the West End has produced a wave of boutique shops and trendy dining spots that exemplify the city's youthful, eclectic spirit.
PETUNIA'S PIES & PASTRIES
Lisa Clark began selling vegan and gluten-free sweets at a nearby farmers' market before opening this storefront last March. Besides treats like the Bumble Berry Peach Pie with hazelnut-coconut streusel, Petunia's offers cocktail pairings like the Widow's Kiss (apple brandy, green chartreuse, Benedictine and bitters).
610 Southwest 12th Avenue; 503- 841-5961;petuniaspiesandpastries.com
See Full Post here

Vegan and gluten-free enthusiasts can indulge in Petunia's Pies & Pastries' apple cinnamon coffee cake, maple walnut scones, and a veritable pumpkin feast—from pumpkin chocolate chip whoopie pies and pumpkin ginger cheesecakes to pumpkin spice muffins and pumpkin maple babycakes. 610 SW 12th Ave
See full post here